The Interview
A couple weeks ago we had the honor of interviewing Irma Alvarado Martinez, a maestra de Xiuhcoatl Danza Azteca. She welcomed us into her home to talk about the importance of plantitas (plants), cultural healing practices, her experience working with the medicina (medicine), and taught us how to make agua de Florida! Over the last couple of months, we have been working on creating content that highlights why cultural healing practices are important in the Latinx community and how they enhance healing. Irma's work at a non-profit in the Mission district exemplifies her commitment to utilizing cultural healing practices, passed down generation to generation, as a way of bringing communities together and processing the intergenerational trauma that impacts the Latinx community.
Plants have been used as part of medicine all over the world for thousands of years by various cultures. Plants not only provide beauty, aesthetic, and tranquility, but they also give us gifts provided by mother earth. The power of plants is no secret, yet traditional/cultural healing uses of plants are not always given the credit they deserve. Western medicine does not often consider the power of alternative medicines in treatment. The same can be said for many practicing mental health professionals who work with the Latinx community. It is important for mental health practitioners to learn about already existing healing methods in the Latinx community and how to implement them into treatment.
During the interview, Irma described agua Florida as a "cleanser, a go to all". Agua de Florida consists of a blend of herbs, flowers, and fruits and is commonly used as a tool in cultural healing practices. It is considered an all-purpose spiritual water utilized during rituals, as medicine, as an offering at altars to the spirits, for protection, and even as a personal fragrance. Agua Florida can be made in a variety of ways using different ingredients. Below is the recipe we used during Irma's demonstration with Liz.
How to Make Agua de Florida
You will need the following:
-1 Mason Jar (32 oz or slightly bigger)
-1 bottle of Vodka (750 ml)
-Cheesecloth: This will be used to strain the liquid once the agua Florida is ready at approximately 4-6 weeks after mixed together and sealed.
-Large bowl
-Spray bottles (any size you want)
TheingredientsIrma used in her recipe are as follows:
White Roses
Pink Roses
Mexican Bush Sage
Rue plant (Ruda)
Rosemary (Romero)
Cinnamon (Canela)
Cloves
Pericon
Orange
Rose Quartz
Steps:
1. Fill the jar with theingredients one by one. Make sure that the items fill the jar to the top. For an example, please take a look at the video.
2. After the jar is filled with ingredients, slowly add the vodka all the way to the top. Make sure the liquid fills out the mason jar, otherwise mold could develop and ruin the mixture.
3. Seal the jar and label with all the ingredients used. Set aside at room temperature for approximately 4-6 weeks.
4. Once the wait time has passed (4-6 weeks) then you can use a large bowl, place the cheesecloth inside the bowl to cover the inside and then pour the liquid in with all the ingredients, lift the cloth from the sides and make a small pouch with the ingredients inside, the cloth has small holes that allow for the liquid to come through (squeeze pouch as needed to get liquid out), after all the liquid has gone through set the pouch aside, finally pour the liquid into as many spray bottles needed and then its ready to use!
We want to thank Irma for giving us her time, energy and sharing her knowledge with us!
​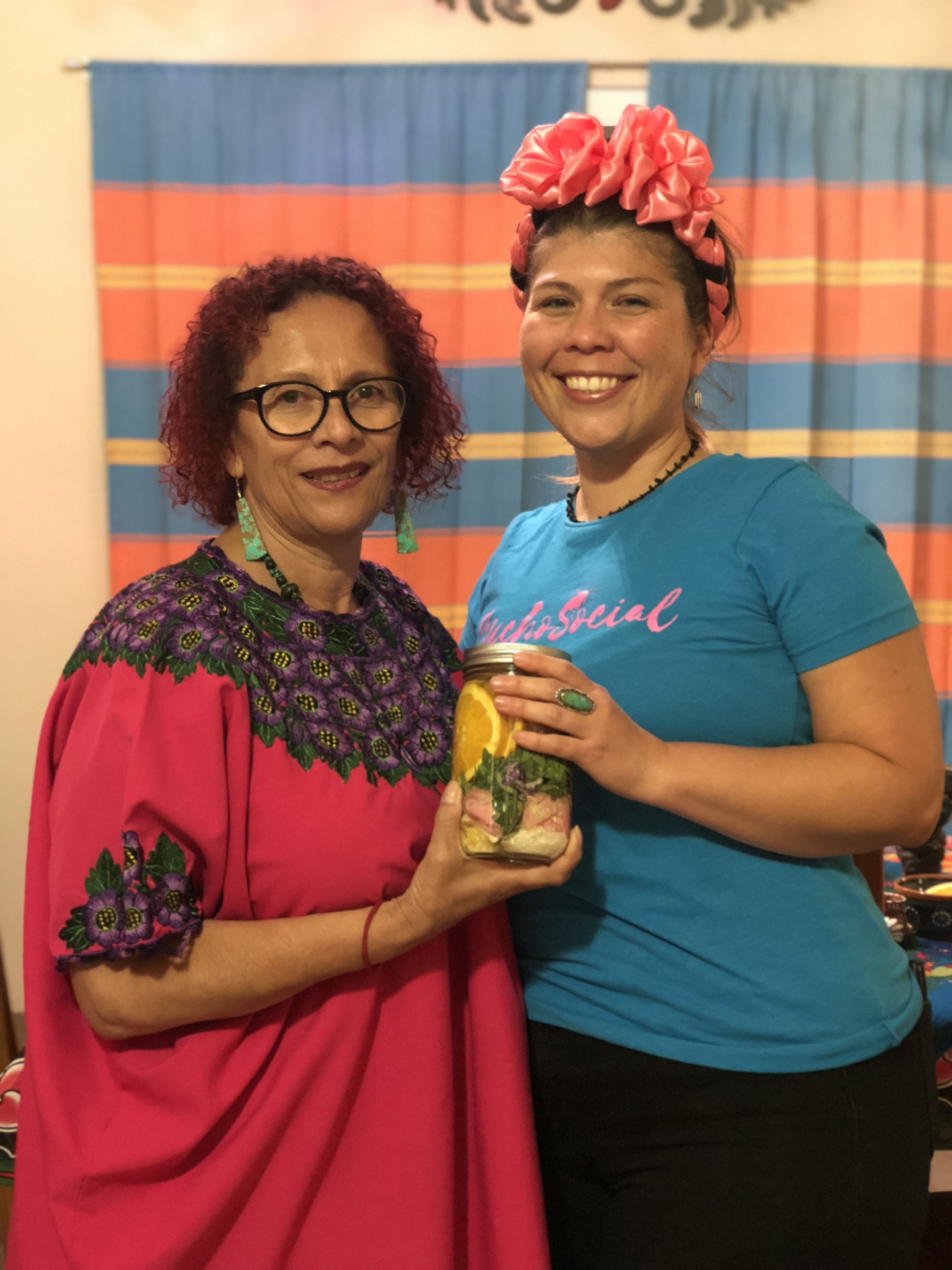 Luis is a Licensed Marriage & Family Therapist who graduated from Long Beach State University with a Masters degree in Counseling Psychology (2015). He also has a Bachelors's degree in Child and Adolescent Development with an emphasis on Public Policy from San Francisco State University (2011). Luis has over 9 years of experience working with children and families both in education and mental health. Previously, Luis worked for a non-profit agency in San Francisco, CA providing mental health consultation in early head start programs and SFUSD pre-schools. Currently, Luis works at Kaiser in San Francisco providing mental health services.
His therapeutic interests include working with Trauma, the LGBTQ community, Children, Families, Couples, and POC. His personal interests include; Films, Reading, Writing, Art, Travelling, Disney, and Food. He is also a recipient of the California State Stipend award (2015). PsychoSocial is part of Luis' dedication to mental health and an example of his passion to educate others. Luis hopes that through PsychoSocial he will be able to help in the fight to end the stigma around mental illness.​​
#EndtheStigma