Heading to the main event
A day ago I had the opportunity to attend the mind, body, and soul conference in Oakland, CA. The event was created to support health and wellness for gay men and their communities. This was a free event and sponsored in part by the newly established Oakland LGBTQ center in collaboration with other agencies. This post is solely created for the purpose of sharing my personal experience throughout the day. It is not in any way or part associated/sponsored by the event itself. I first heard of the event through a co-worker/friend who shared it with me on Facebook. At first glance, my interest was piqued at the thought of having a space dedicated to the well-being of gay men. As the event drew closer, I found myself excited to connect with others within my community and discuss topics that directly impact our lives. This was fueled even more by the invitation to add the event's app. The app not only provided a detailed description of the sessions, which helped us prepare beforehand but also had a feature where we were encouraged to network with others attending, as well as post pictures from the event. The day of the event, I met with my co-worker at the civic center BART station at around 8 am. The trip was fairly short and on the way, we both expressed excitement about some of the announced workshops.
Arriving at the event
As we arrived at our location, we were greeted by an already busy and full sign-in area. Surprisingly the sign-in process was simple and quick. I was able to get my name tag and raffle tickets in less than 2 minutes. This was great, as often times at other events time was taken due to organizational issues. After signing in, we headed over to the complimentary coffee table to officially start our morning. As we sipped our coffee we moved around the attending information tables from various agencies and collected flyers, cards, and any other useful literature. The doors to the hall opened promptly at around 9 am and we were able to go inside and find a table. I was somewhat confused at the lack of people at our table (there were about 6-8 seats) yet there were only 3 people including myself and my co-worker. I was really expecting such a large and free event to have more interest from people in the gay community. The attendants who were there, however, were diverse and enthusiastic. The opening messages were notable and definitely helped hype up the event. The standout, however, was the welcoming performance from a two-spirit self-identifying group called "wakan wiya". The sound of drumming, blended in with the beautiful voice of the group leader, filled the room with power and cultural beauty that is so often missing in many events.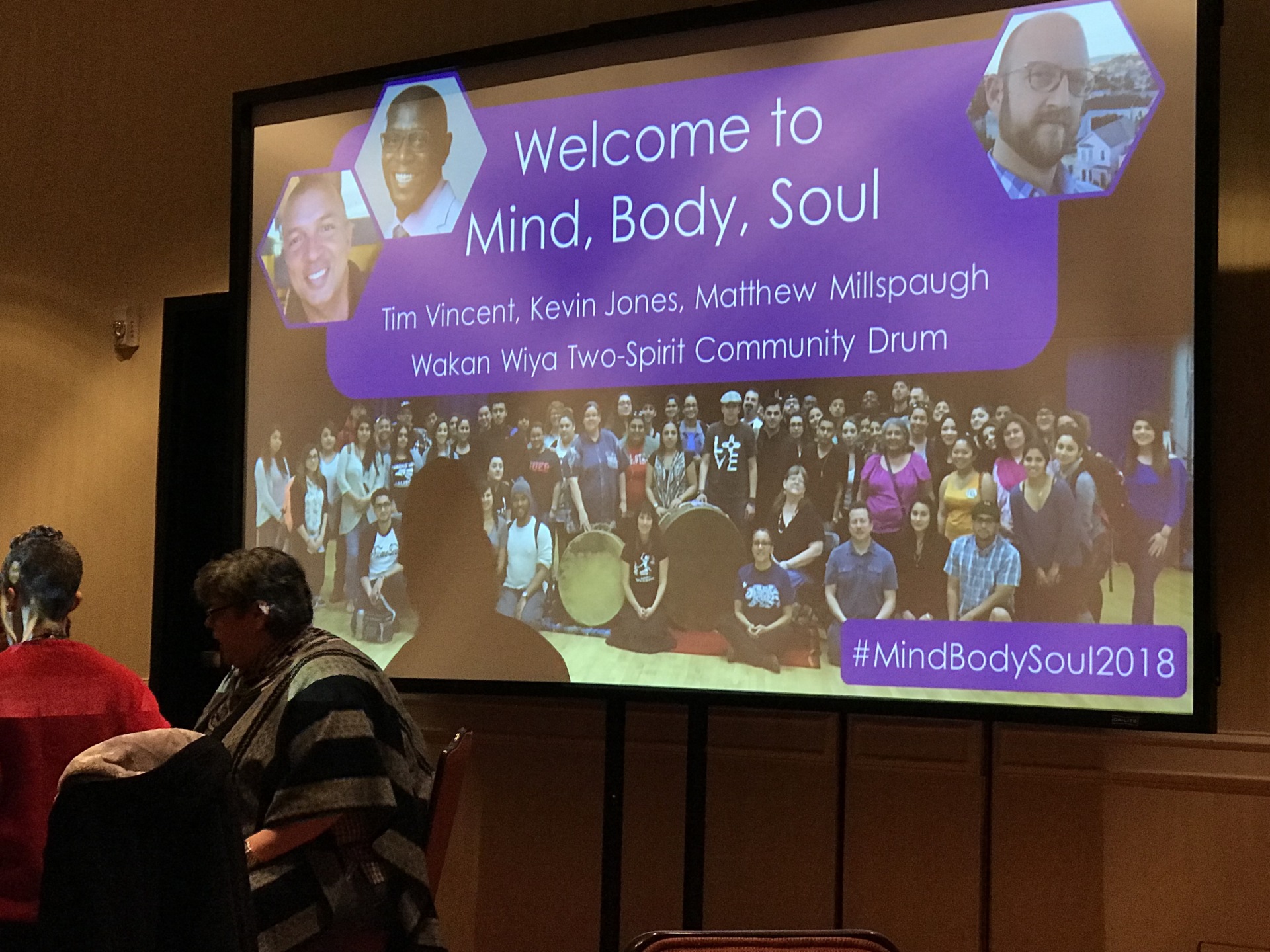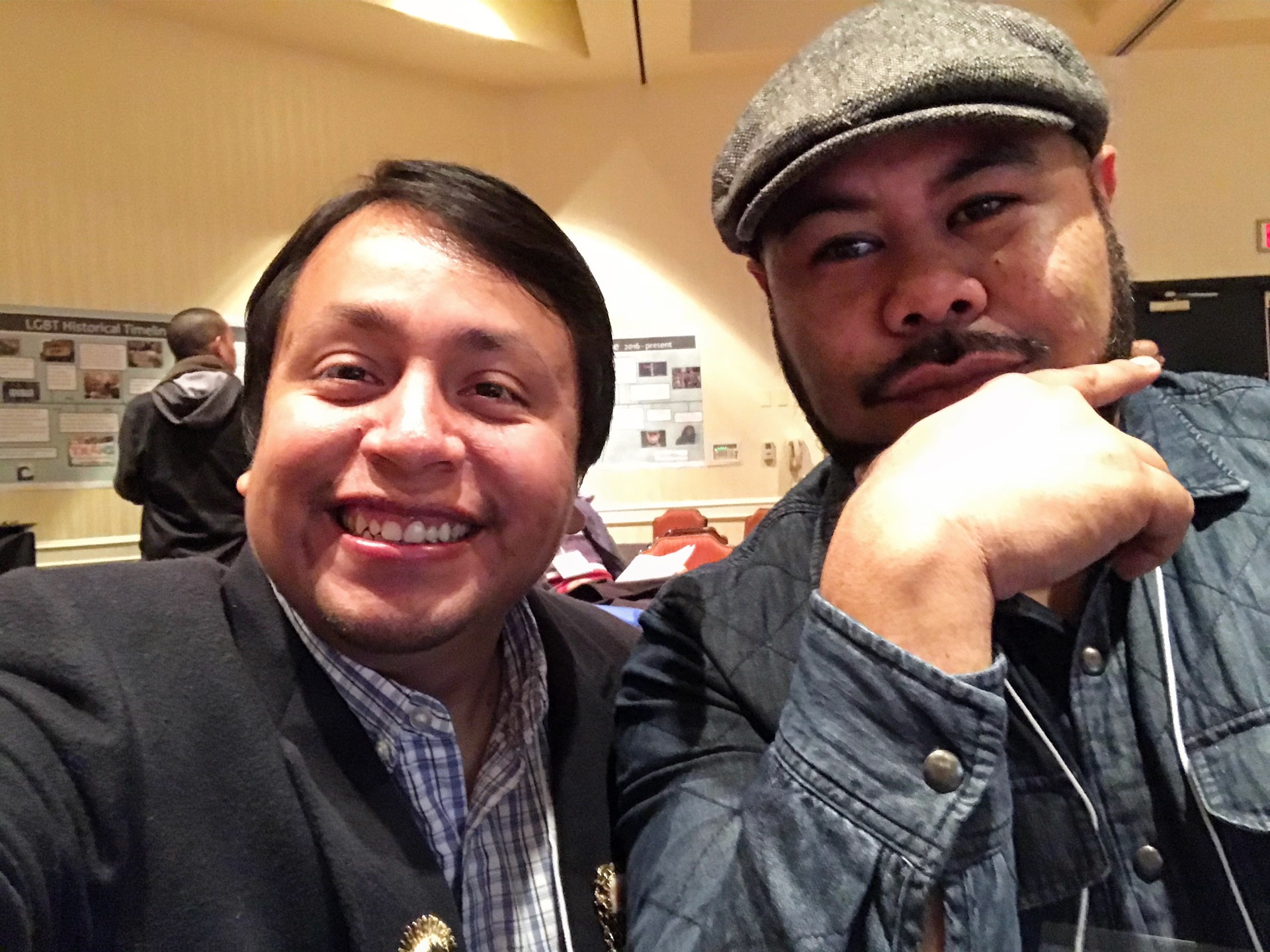 1st Session of the day
Afterward, it was time to attend our first session of the day. My co-worker and I were both conflicted about which session to attend as there were a couple we were interested in. We ended up deciding on "the art of healing" presented by Terrence Gore a man I had not heard about before, yet whom much exposure had been placed on due to his truly inspiring personal strength. Gore had been diagnosed with AIDS, which led to his diagnosis of progressive multifocal leukoencephalopathy that left him paralyzed on the right side of his body. We began his story by watching clips from his interviews with news stations and personal videos showing his work. Although, there were initially technical difficulties with the technology in the room (the screen would shut off repeatedly) the message was received regardless. Gore shared that after his diagnosis he was given 30 days to live by his doctors (it has been 16 years since this diagnosis). A large part of his journey involved his life work as a visual artist and renaissance man (as he identified himself). As part of the session, we were treated to a demonstration of his work with individuals through the power of movement. Initially, people appeared too shy to engage in the activity, but they quickly started to join in as Gore and his persuasive abilities beat with the sound of music in the background.
Overall, the workshop was informative of Gore's life, success, and struggles. It provided a story of perseverance and inspiration for anyone who is facing similar struggles. At one point, however, Gore attempted to engage my co-worker to participate even after continuously receiving a "no". This brought up a very powerful message for me on the need for us to demand respect and feel empowered in not needing to explain our comfort in any situation. This also reminded me of my own challenges with saying "no" and feeling forced into situations that I do not feel comfortable in. I do not know the intention behind the insistence during the session, however, I felt inspired by Gore, and empowered by my co-worker's thought-out and well-spoken response.
Lunchtime
Following this session, we were invited back to the main conference room for a pre-packaged lunch which included a sandwich, side, and drink. During lunch, my co-worker and I were able to reflect on the first session and also mingled with other individuals who had joined our table. These in-between sessions felt in part the more gratifying of the event because not only were we able to network, but we were able to share and discuss these topics in a larger context. While we ate we were also treated to giveaways and music which helped create ambiance as we enjoyed some time to reflect and relax.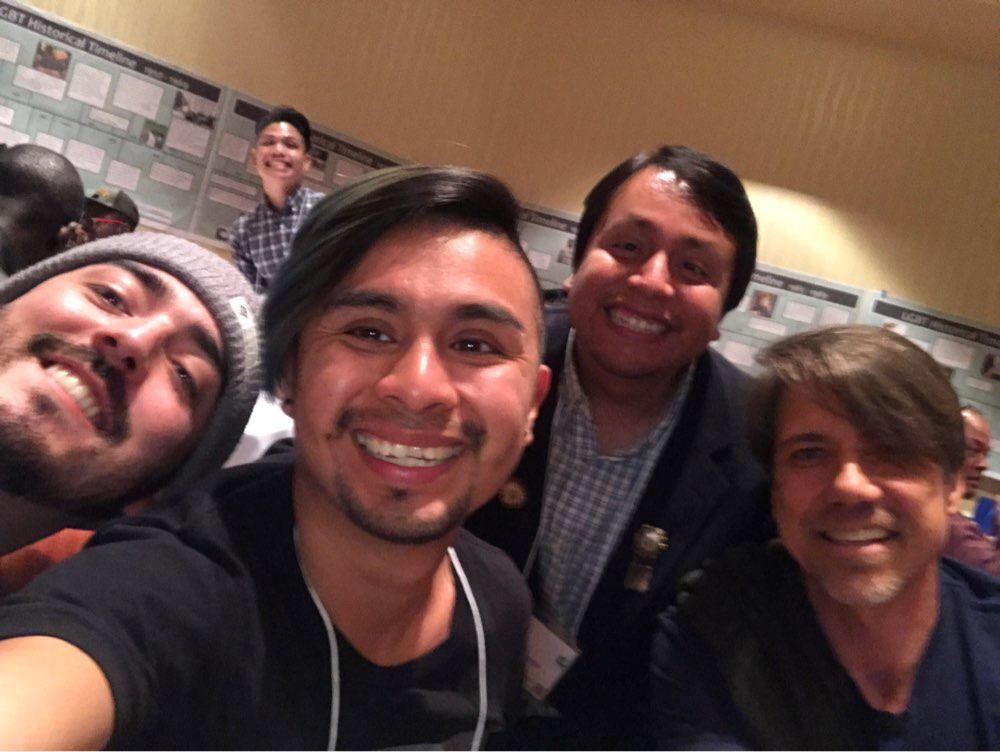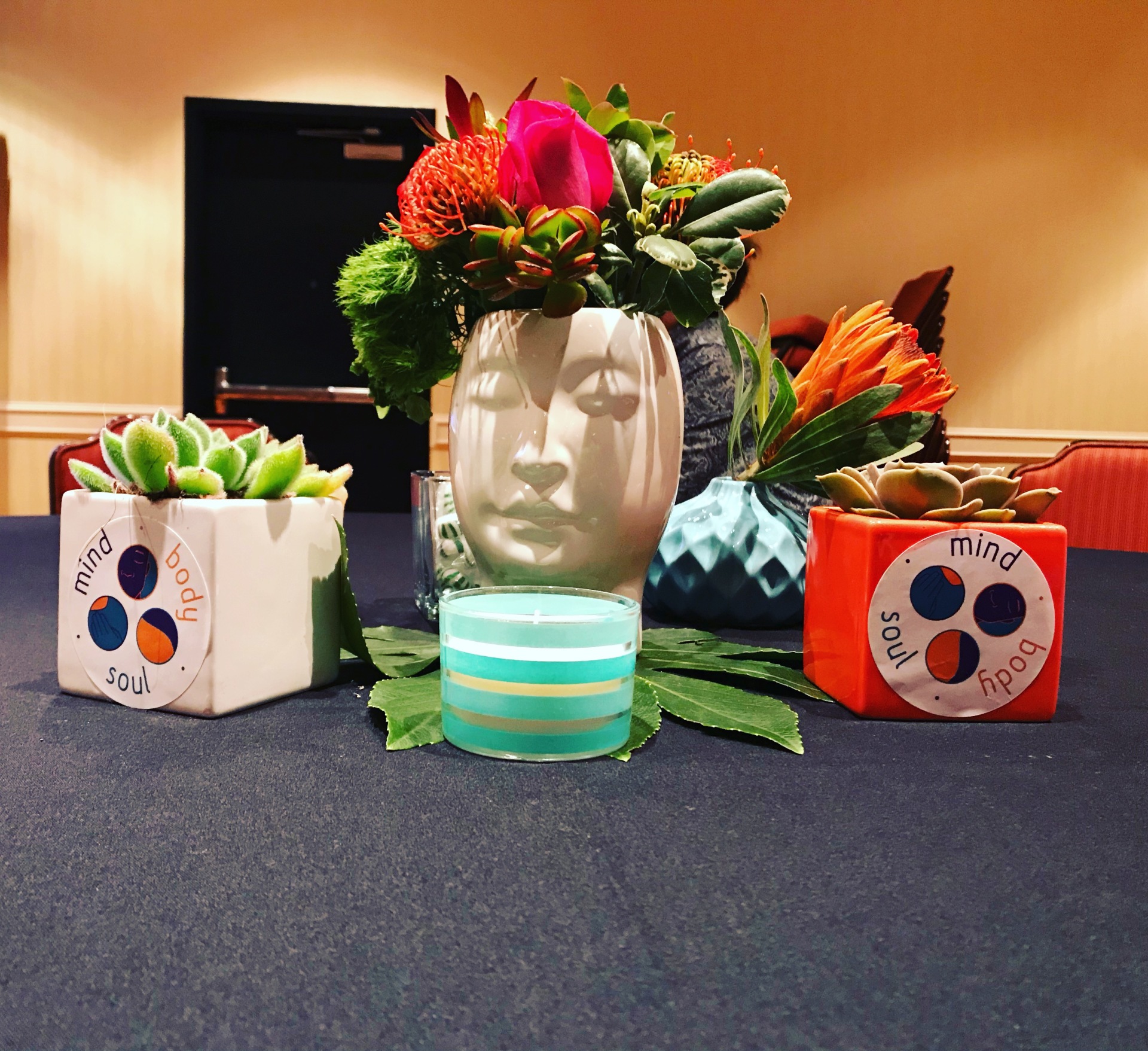 2nd Session of the day
When we finished lunch, it was off to the next session. This time we were both in agreement of attending "hooking up with trans masculine folks: an interactive discussion". For reasons of agreed upon confidentiality within the group, I am unable to share details about the discussion. But, I can say that for myself it was truly refreshing to discuss transgender men in the gay community. This session was perhaps the most challenging and most informative of the evening for me because it provided context for a group of people I am still in the process of educating myself in.
Special guest Milan Christopher
After the session, we were led back to the main hall where we had a special guest appearance by Milan Christopher who has made a name for himself in the entertainment industry as a gay African American actor, rapper, and personality. He was interviewed by the executive director of the newly opened Oakland LGBTQ center. The interview was interesting because it brought up discussion around sexuality in the media, gay African American personalities in the entertainment industry, stigma, and detail on Christopher's work in advocacy for the gay community. When the interview was over, we participated in the final raffle. Unfortunately, I didn't win (someone at our table did, however), but I did get runner-up in the picture competition the event had through the use of an app. I won a cool solar-powered phone charger that I will definitely put to use.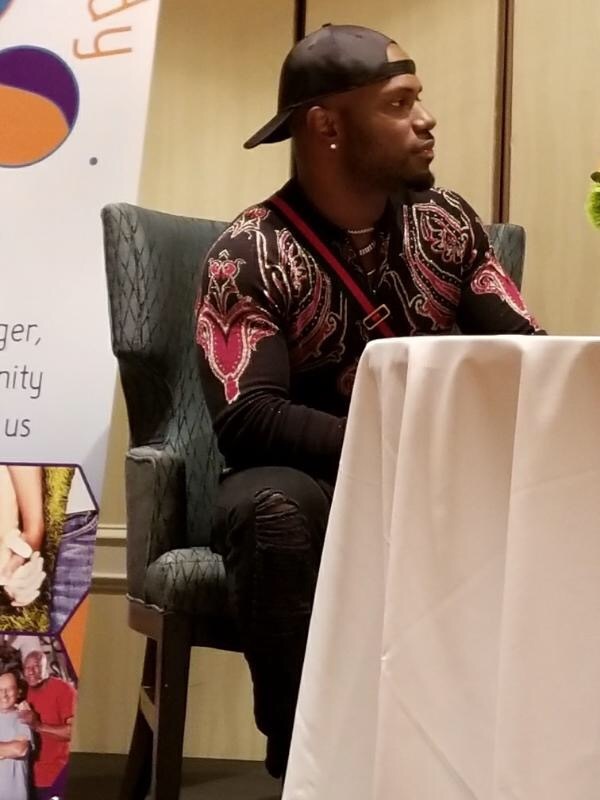 The closing of the event and final thoughts
When the raffle and contest were over, we entered into the closing event. This section of the day officially became the most powerful and vulnerable moment of the evening. The presenter was… who shared his story of growing up in a low-income single parent home. It was a truly touching story that although was full of pain and sadness, also included strength and love. … who began his career as a successful engineer, eventually transitioned into a teaching career as he realized his true passion and calling laid within the education of young boys of color who also struggled with ongoing stressors in their lives. It was through these experiences that … created a non-profit designed to help shed light on the inner struggles and stories of young people. This project is called… and is currently ongoing towards its goal of reaching as many people as possible. When … was finished describing the project, he invited us to participate in the activity ourselves. We were each handed a pre-established card with instructions and space to draw and write. He began his instructions by asking us to draw a mask and write down words that described how we portrayed ourselves on a daily basis in front of others. When we were done, he asked us to include words describing how we really felt. Initially, I felt that this was powerful because we had to show a level of vulnerability to reflect on the masks we wear on a daily basis. Yet, what followed was the real surprise.
We were asked to walk around the room as if we were in downtown San Francisco and switch cards with every person we passed along the way. This ensured that we switched our cards multiple times. After we were asked to stop we read the cards and engaged with a partner during which time we were asked reflective questions. This went on two more times afterward. What I learned from this process was that many of us share the same pain, similar insecurities and that we all wear masks that hide our true feelings and fears. This message was powerful on its own, but being in the presence of so many other gay men, I felt compelled to feel the most connected I had throughout the day. This activity truly embodied the event's purpose of increasing our awareness and connection within the group.
On an end note, I truly enjoyed the event and felt that it provided ample opportunities for discussion. The only critique I have is that I felt the amount of time we had for each session felt too short. I know there is never enough time in the day, but some of the topics were strong and required time to allow organic and strong dialogue. I also want to give a shout out to the drag queen who was the day's MC. She was truly fabulous and provided much-needed humor, finesse, and entertainment to the event. I know I am definitely one person looking forward to next year's event.
​

Luis is a Licensed Marriage & Family Therapist who graduated from Long Beach State University with a Masters degree in Counseling Psychology (2015). He also has a Bachelors's degree in Child and Adolescent Development with an emphasis on Public Policy from San Francisco State University (2011). Luis has over 9 years of experience working with children and families both in education and mental health. Previously, Luis worked for a non-profit agency in San Francisco, CA providing mental health consultation in early head start programs and SFUSD pre-schools. Currently, Luis works at Kaiser in San Francisco providing mental health services.
His therapeutic interests include working with Trauma, the LGBTQ community, Children, Families, Couples, and POC. His personal interests include; Films, Reading, Writing, Art, Travelling, Disney, and Food. He is also a recipient of the California State Stipend award (2015). PsychoSocial is part of Luis' dedication to mental health and an example of his passion to educate others. Luis hopes that through PsychoSocial he will be able to help in the fight to end the stigma around mental illness.​​
#EndtheStigma