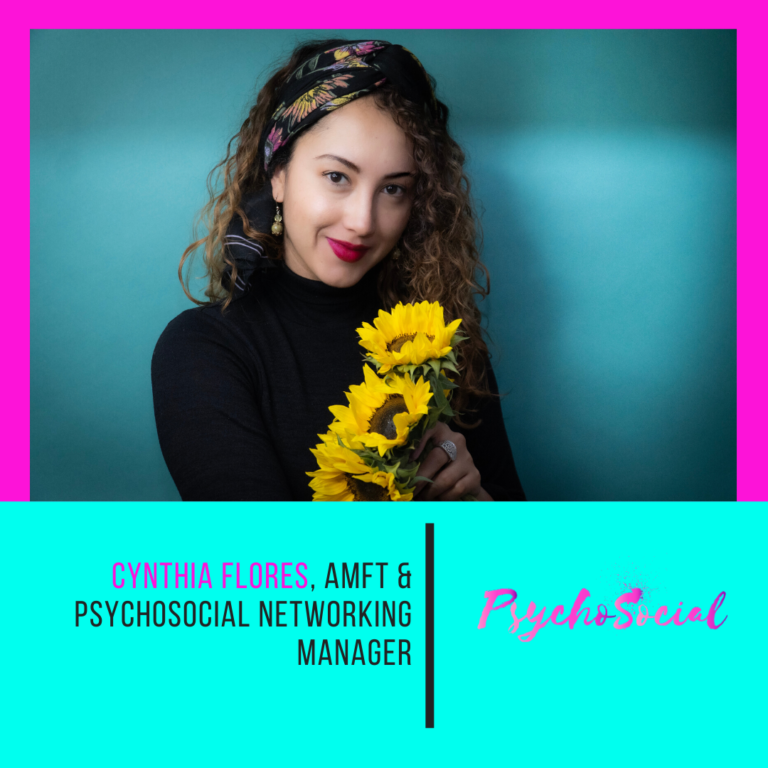 We would like to introduce you to Cynthia Flores, AMFT! She is our Networking Manager! Her role includes helping organize MeetUps for Reclaiming Wellness: A MeetUp for Mental Health Professionals of Color in the San Francisco Bay Area! With her help we hope to build a strong support network. Read more about Cynthia below: 
Cynthia Flores is a Mexican-American Associate Marriage and Family Therapist born and raised in Salinas, Ca. She currently provides psychotherapy services to children, adults and families in the Latinx community of San Francisco, CA.
Cynthia is constantly working towards de-stigmatizing and raising awareness on mental health within the BIPOC communities and incorporates a social justice lens as it relates to systemic oppression and the impact it has on our mind, body and spirit within our communities.
She has also co-facilitated workshops on intergenerational trauma and collective healing and has been invited as a guest in podcasts to share her lived and professional experience in her field.
Please reach out to her if you have any questions/suggestions for our networking events or if you would like to help organize them! Her email is psychosocialnetworking@gmail.com
Subscribe to the PsychoSocial Reclaiming Wellness: A Mental Health MeeUp for Professionals of Color Below!
Want to stay up to date on our Reclaiming Wellness: A MeetUp for Mental Health Professional of Color events? Then please fill out and submit the form below. We look forward to meeting you and building community! 
Stay up to do date and interact with other members of the group! We continuously post and update the group with sign-up links and other important information!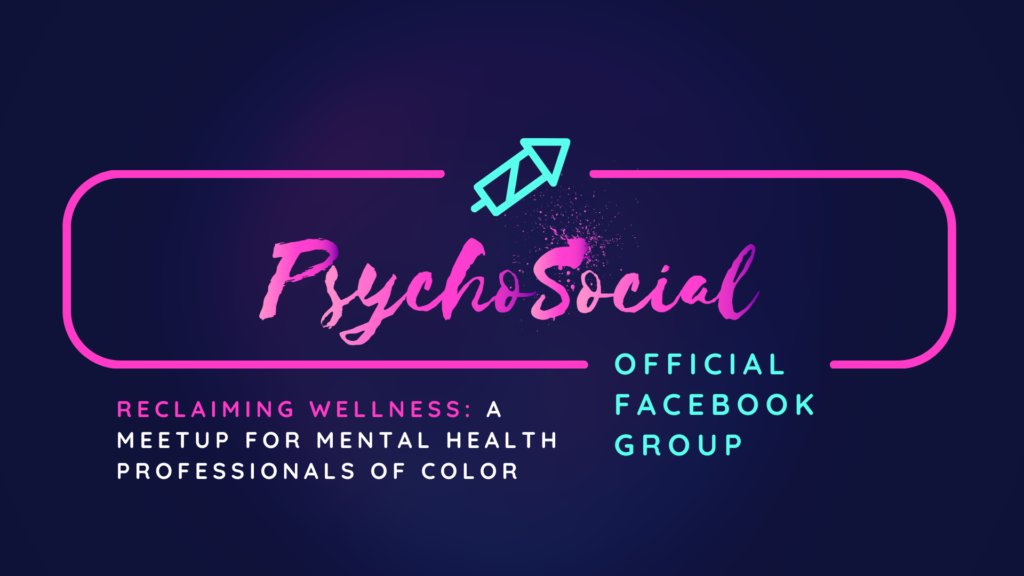 If you are planning on attending one of our meetings then please RSVP below!

Our First Meet-Up Is Scheduled to Take Place on Saturday, August 31, 2019!
Here are a few details: Our 1st meet-up will be held in San Francisco at the following location: Instituto Familiar de la Raza 2919 Mission Street San Francisco, CA 94110 We will be meeting from 2pm-4pm, please make sure to arrive on time. What to bring: any promotional material about your work, expertise, and services. For this 1st meet up we will be completing some house rules, signing disclosure agreements, and filling out surveys about social activities for future meet-ups. Please RSVP by clicking on the button below!
Sip Wine & Enjoy Good Company on Saturday, September 28, 2019!
For our 2nd MeetUp we want to invite you all to come have some wine and socialize with other Latinx Mental Health Professionals from around the San Francisco Bay Area! We will be meeting at Tank 18, a cute and chill wine bar located in Downtown San Francisco! This MeetUp will take place on Saturday, September 28, 2019 from 6-8pm. Please RSVP if you are planning on attending! Also, please feel free to email us if you have any questions at psychosocialnetworking@gmail.com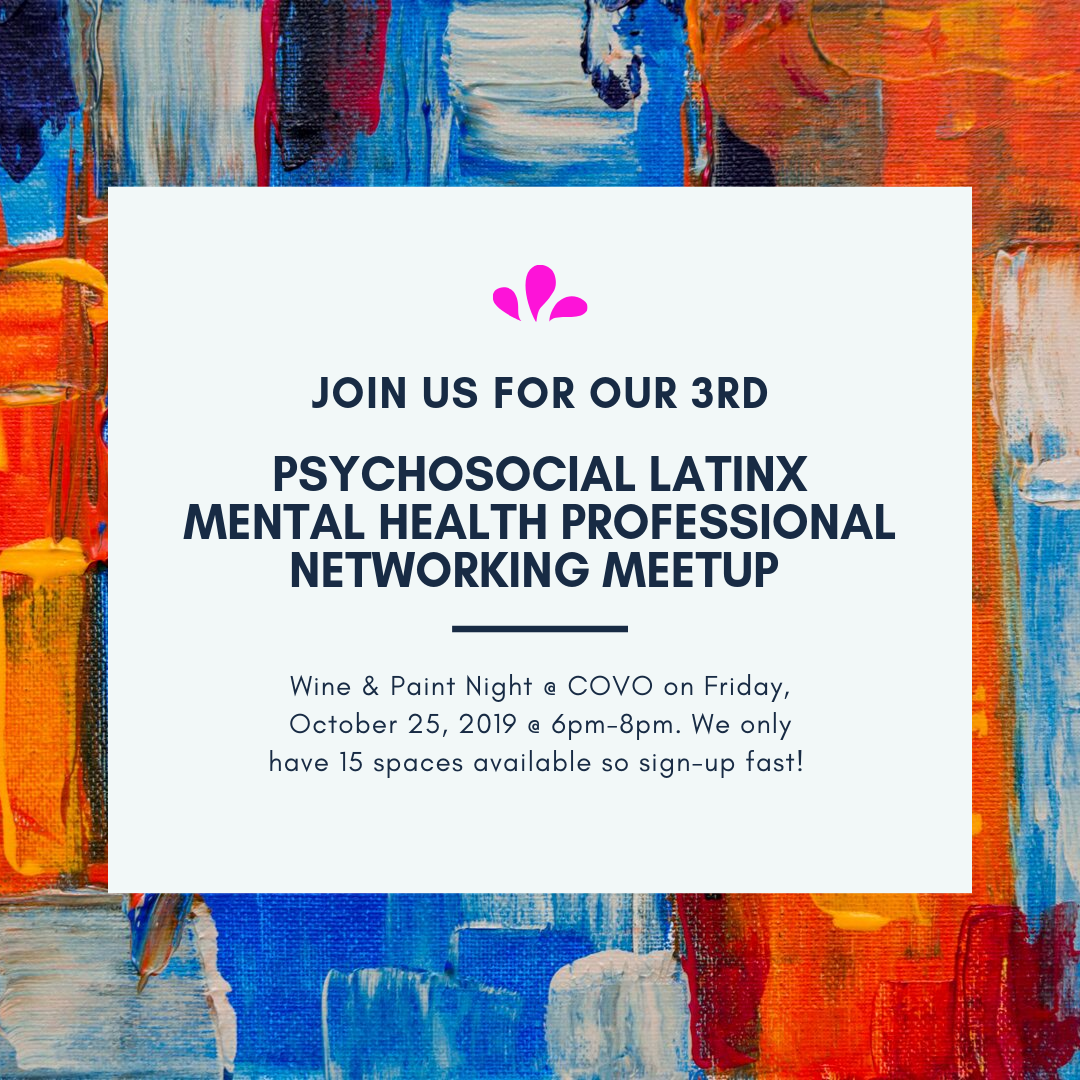 PsychoSocial Presents: Paint & Wine Night on Friday, October 25, 2019
Join us for our 3rd meet up! We will be meeting at COVO in downtown San Francisco a for a wine and paint night on Friday, October 25, 2019 from 6-8pm. We will be charging a $10 fee which includes a small canvas, paint, and paint brush. The venue has wine, beer, and non-alcoholic drinks available. The event is limited to the first 15 people who sign up so don't delay!!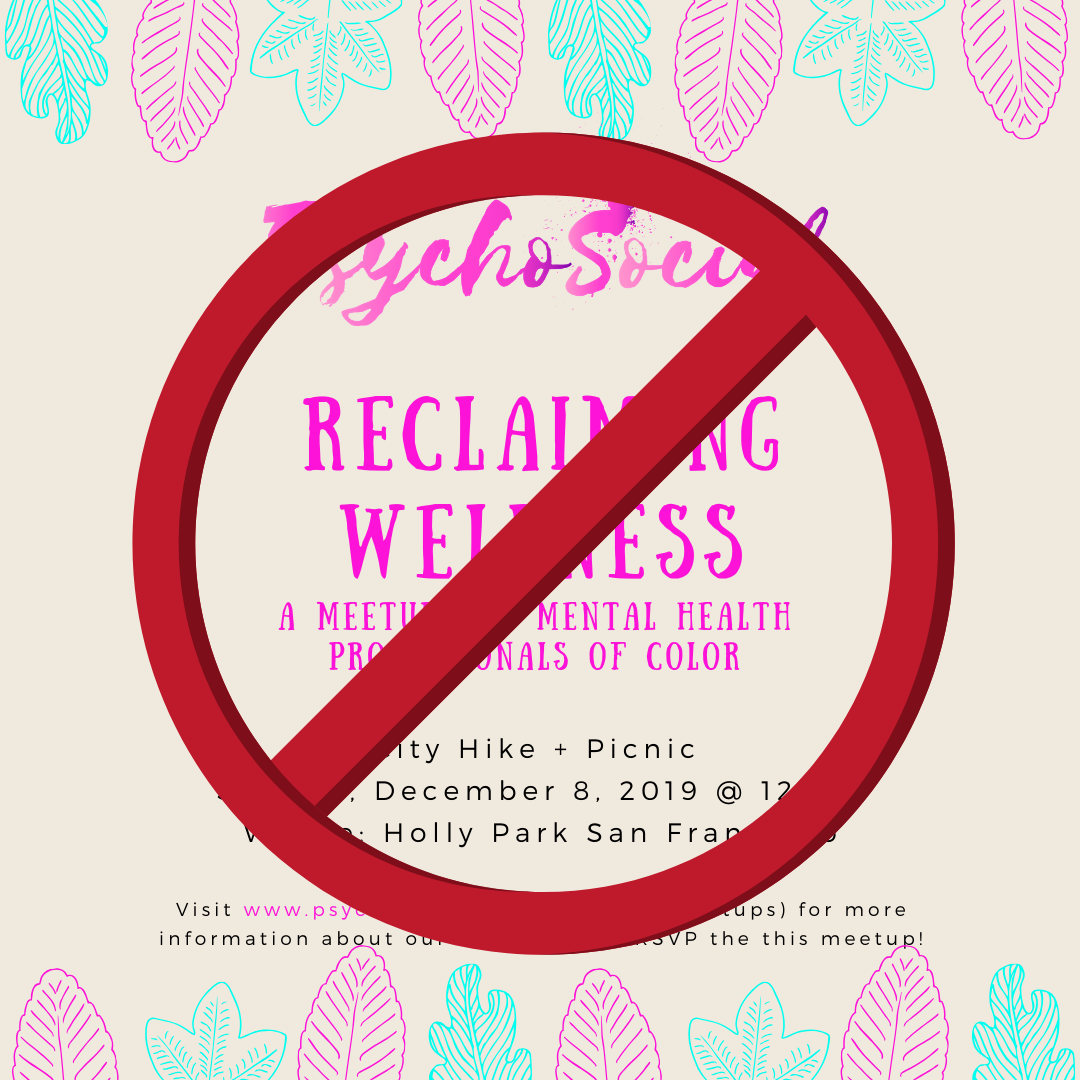 CANCELLED: Reclaiming Wellness: City Hike & Picnic! Sunday, December 8, 2019
Update: Due to the Rain we are cancelling our Hike+Picnic on 12/8. So sad. But, wait! We are excited to let you know that we were able to partner with Latin City to host our meetup at an All You Can Eat Puerto Rican Brunch in downtown San Francisco instead! That's not all, we were also able to get everyone coming to the meetup the early bird price of $19.99! This means that instead of the regular price of $24.99, people coming to our meet up will pay the early bird price! RSVP below!
Join us on Sunday, December 8, 2019 at 11 am! What: All You Can Eat Puerto Rican Brunch When: Sunday, December 8, 2019 @ 11pm Where: Trademark Sports Bar & Eatery 1123 Folsom Street San Francisco, CA94103