Like most people, I was captivated by the publicity surrounding the "Surviving R. Kelly" documentary. I decided to watch the series which was broadcasted on the Lifetime Television Network, on January 3, 2019. This documentary is a six-part series that has shed light on the abuse perpetrated by R&B singer, Robert Kelly, also known as R.Kelly. In the series, we learn about Robert Kelly's childhood and the sexual abuse he and his younger brother endured at the hands of a family member. Later in the documentary, we learn about the sexual abuse perpetrated by Robert Kelly himself, against young black women and how he held women hostage against their will. Many also believe that R. Kelly was running a sexualcult. In the documentary, we hear from R.Kelly's management team who appear complicit with his abusive behavior. In the series, we also hear from psychologists who provide insight on R. Kelly's behaviors as well as information about the cycle of abuse and the role psychological control plays in abusive relationships. Additionally, throughout the series, we hear from the founder of the #MuteRKelly movement, Oronike Odeleye as well as the founder of the #MeTooMovement, Tarana Burke.
When we talk about abuse in society we often focus on physical or sexual abuse, yet, psychological abuse is often overlooked. In this documentary series, we witness how powerful the effects of psychological abuse truly are. "One in three women worldwide has been beaten, coerced into sex, or otherwise abused in their lifetime" (1). The psychological abuse described by R.Kelly's victims in the documentary was typical of patterns of abuse often present in domestic violence and similar to the tactics used by pimps with sex trafficking victims. Psychological coercion can be maintained by verbal and non-verbal means, in order to cause "emotional or cognitive learning to change beliefs, attitudes, or behaviors (2)." Psychological abuse can include "criticism, threats, insults, humiliation, intimidation, invalidation, or harassment (2)." Denying the desires of the other person and erasing their identity are crucial components of psychological abuse. Victims may also be treated like children, i.e., told what to do, spoken to like they're stupid (2). All of these methods are used for the sole purpose of gaining control over another human being. Not only are they dangerous, but they often leave a long-lasting impact on the survivor.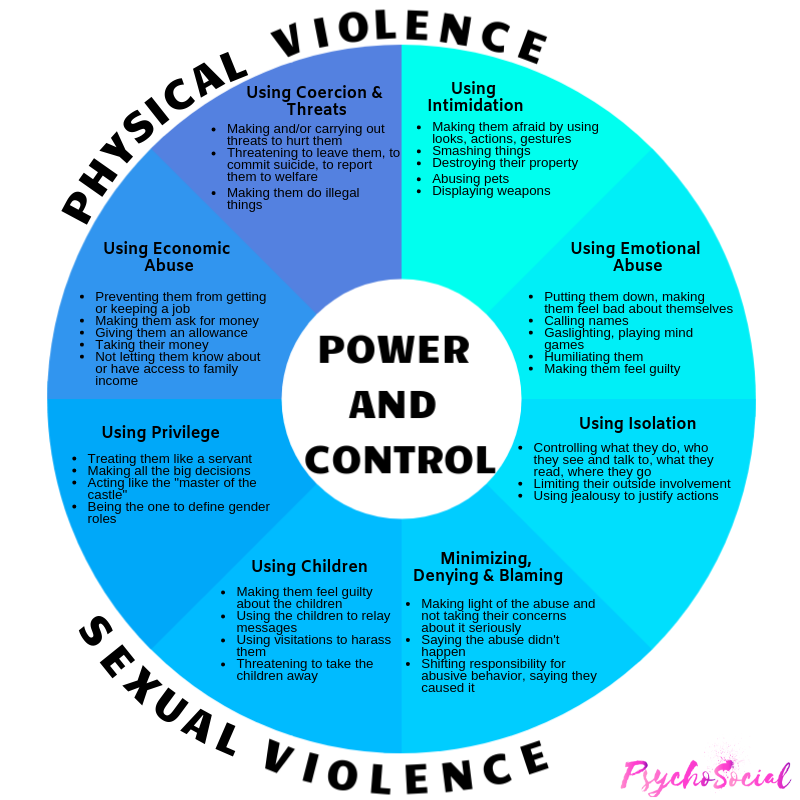 Throughout the documentary, we hear accounts of survivors who share details about the physical, sexual, and psychological abuse they experienced during their time with R Kelly. This pattern of abuse is visually represented in what is known as the "Power and Control Wheel" (pictured above). Some tactics the women interviewed disclosed include:
Using threats (making threats to leave, threatening to commit suicide, or threatening to hurt a family member/pet).
Using intimidation (damaging property).
Using emotional abuse (criticizing your partner, calling her/him names, putting your partner down, playing mind games, making your partner feel guilty).
Minimizing, denying, blaming (making light of the abuse or blaming him/her).
Using male privilege (making her the "servant" or acting like the "master of the house").
Economic abuse which can include keeping the survivor from having a job or financial means to support themselves financially.
In this documentary, we also hear from Ms. Andrea Kelly, R.Kelly's ex-wife of thirteen years. Having worked in a domestic violence shelter for women and children I would often hear others, even some of my clients say, "why did they stay so long/why did I stay so long?" Much like Andrea Kelly, survivors stay in abusive relationships because of the psychological control of the abuser. Additionally, survivors stay because of the lack of financial and social resources available to them, as often times, isolating a victim from their financial/social resources is a tactic used to gain control.

Signs of an abusive relationship, according to the National Domestic Violence Hotline (3)
The abuser…
Tells you that you can never do anything right.
Shows extreme jealousy of your friends and time spent away.
Keeps you or discourages you from seeing friends or family members.
Insults,demeans or shames you with put-downs.
Takes your money or refuses to give you money for necessaryexpenses.
Prevents you from working or attending school.
Pressures you to have sex when you don't want to or do things sexually that you're not comfortable with.
Pressures you to use drugs or alcohol.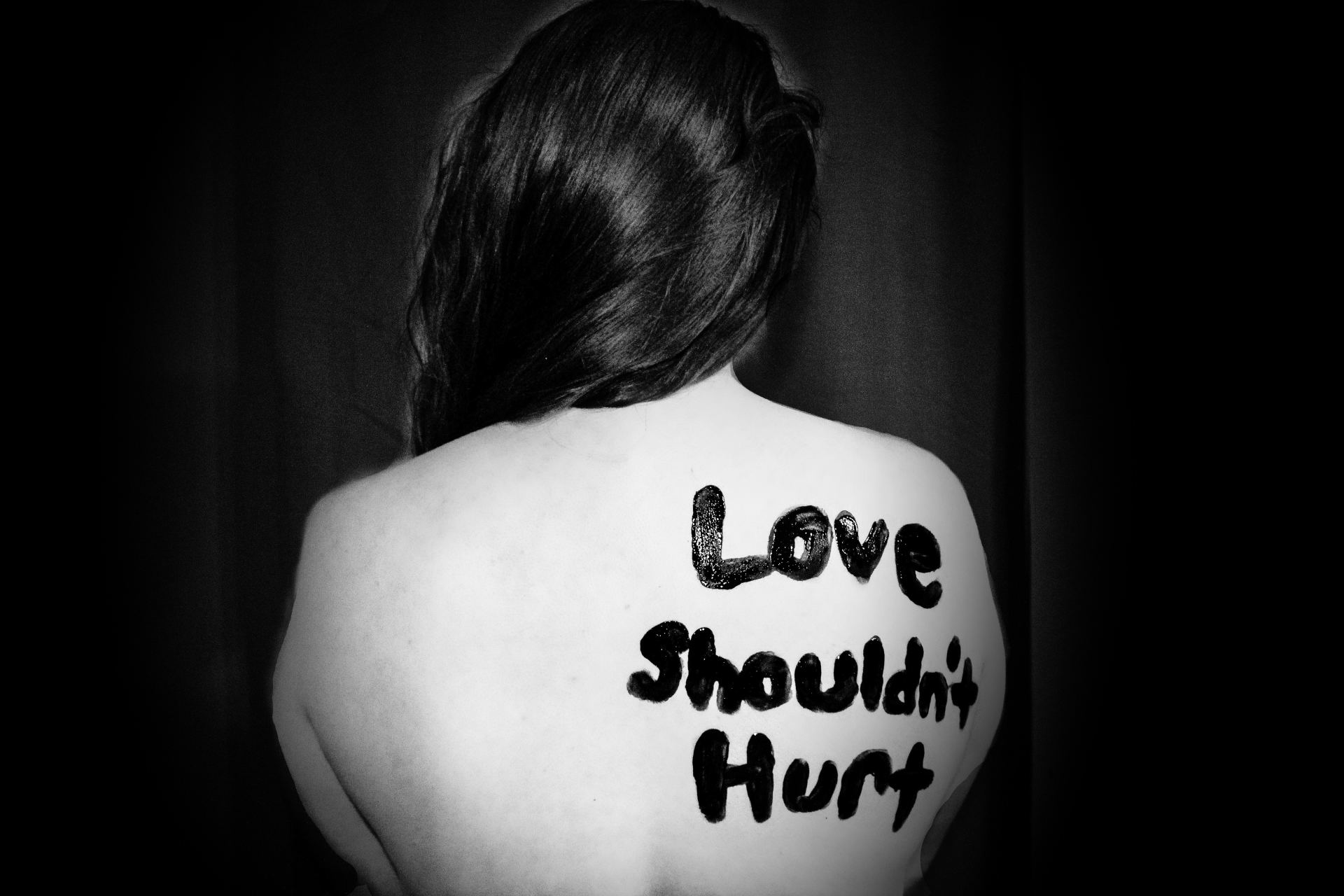 Why do People Stay? – The Cycle of Abuse (4)
Another reason survivors stay in abusive relationships for long periods of time is because of what is known as the cycle of abuse. The cycle of abuse includes three phases, 1. Tension-building phase, 2. explosion phase, and the 3. honeymoon phase. The tension-building phase is defined by every-day stresses (work, finances, etc.) and the victim anticipating "the explosion." This phase is often referred to as "walking on egg-shells." The second phase or the explosion phase is characterized by violent or abusive behavior, when the abuser releases tension via abuse, This phase is generally the most dangerous, when a victim is most at risk due to the increase in violence. The third phase is known as the honeymoon phase and is described as the "calm after the storm," when the abuser is apologetic, often promising to never hurt the victim again. Many times the victim may want the abuse to end but not necessarily the relationship, so the honeymoon phase gives the victim hope that the behavior will change.
What are some long-term mental health effects of abuse?
Post Traumatic Stress Disorder, including flashbacks, nightmares, and intrusive thoughts
Anxiety
Depression, or a prolonged sad mood
Low self-esteem
Drug/alcohol use
Suicidal thoughts or thoughts of wanting to hurt oneself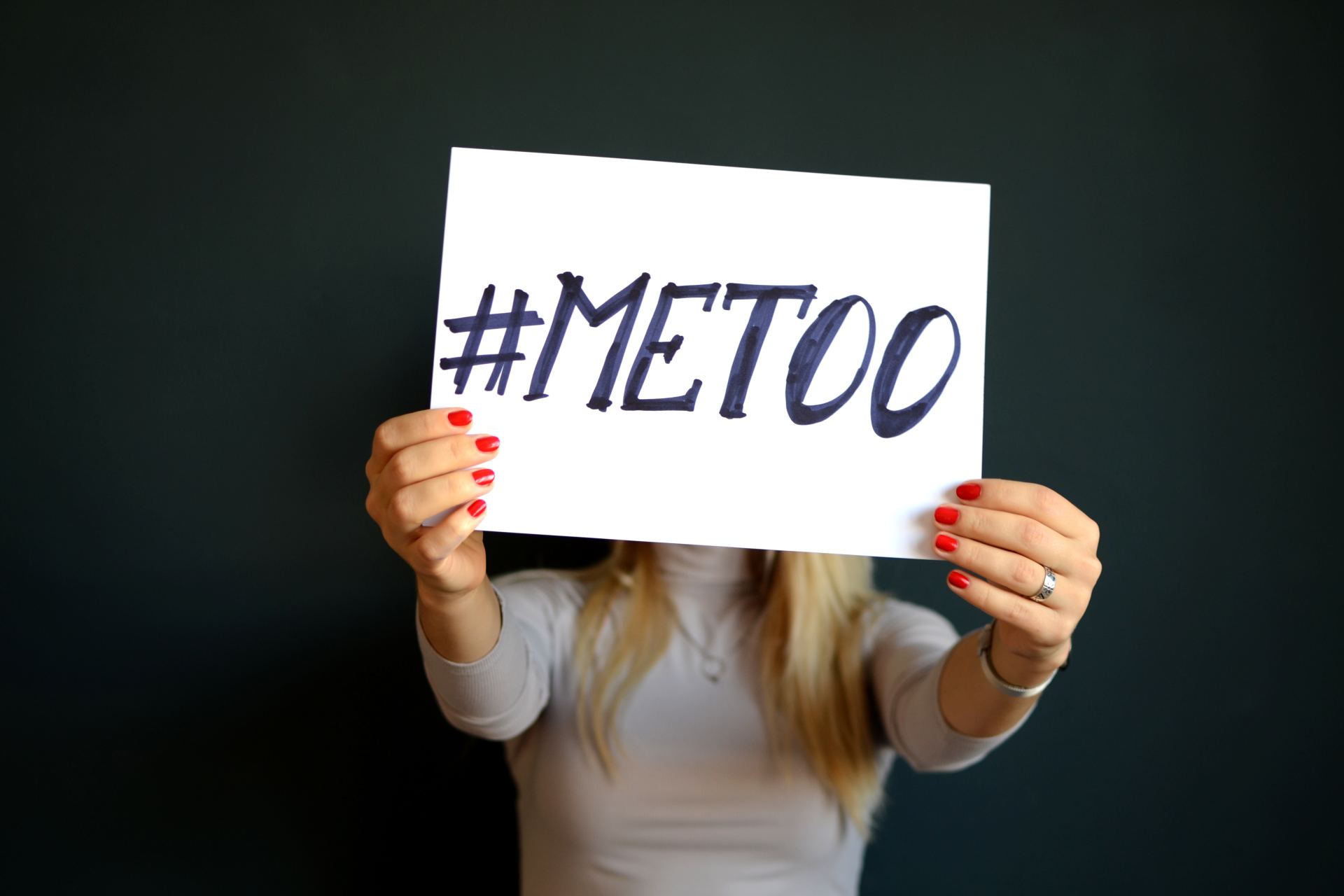 #MeTooMovement
During this documentary, Tarana Burke, the founder of the #metoomovement, was also interviewed. The #metoomovement is a grassroots movement, founded in 2006, to provide support and resources to survivors of sexual violence, and to create a dialogue regarding sexual violence within the black community, but also for our society at large.
What was most astonishing to me was how R. Kelly got away with committing such abhorrent crimes against women and children for so long. According to several studies, black girls, women, and non-binary folks are more vulnerable to abuse. 40% of black women will experience intimate partner violence in their lifetime and are killed at a higher rate than any other group of women (5). A report published by Georgetown Law Center found that "adults view Black girls as less innocent and more adult-like than their white peers. (5)" This false perception continues to follow black girls into adulthood, as evidenced by the comment of a juror of R. Kelly's 2008 child pornography trial, where a juror stated, "he did not believe testimony from Black women because of how they dressed and "the way they act;" R. Kelly was acquitted of these charges. Racism, misogyny, and patriarchy uphold the systemic structures that continue to enforce the false beliefs that black women, girls, and non-binary folks are deserving of abuse. Black women, girls, and non-binary people are rarely seen as victims and are more often seen as deserving of abuse (5). These systemic biases make it easier for them to become targets for abuse and less likely to come forward when they are abused.
On a positive note, however movements like the #metoo movement have been established asresourcefor women and non-binary people and hashelped to provide hope to survivors. The importance of survivors feeling as though they will be heard and their abusers held accountableis an essential component of women coming forward to speak up, sharing their story and seeking justice. While the #metoomovement was first coined by Burke in 2006, it gained steam again in 2017. The following year, in 2018, Bill Cosby was convicted of drugging and molesting a woman, and #metoomovement has been attributed to providing the hope and support that the survivors needed to come forward (6).
"I'm just a person who stands up and tried to make sure we keep our focus on survivors and we keep our focus on the part of thisthat matter most, which is the women's lives that are affected." -Tanara Burke
Where Can I Get Support?
If you or someone you know is a victim of abuse or intimate partner violence, please get help and call one of these toll-free numbers:
National Domestic Violence Hotline
1-800-799-7233
National Sexual Assault Hotline
1-800-656-4673
National Suicide Prevention Hotline
1-800-273-8255
These hotlines are available to offer 24/7 support and can connect you to a local agency for additional help and support.
Also, check out www.metoomvmt.comfor additional national and local resource information.
References:
1. https://www.behavioral.net/article/ending-cycle-abuse
2. https://humantraffickingcenter.org/psychological-abuse-inherent-part-human-trafficking/
4. http://www.domesticabuseproject.com/2016/06/the-cycle-of-abuse/
5. https://www.aclu.org/blog/racial-justice/race-and-criminal-justice/legal-system-has-failed-black-girls-women-and-non
6. https://www.nbcnews.com/storyline/bill-cosby-scandal/bill-cosby-conviction-first-big-win-metoo-movement-n869381
Cover Photo by ActionVance on Unsplash

Photo by Sydney Sims on Unsplash

Monica Jauregui is an associate clinical social worker. She was born and raised in the Coachella Valley, however, she now lives in the San Bernardino area. Monica graduated in 2016 with a Master's in Social Work from the University of Redlands and got her Bachelor's of Arts degree, with a double major in Race and Ethnic Studies and Spanish. She has a passion for social justice and strives to bring awareness to social issues that affect the Latinx community, people of color, and the LGBTQ community.
Monica has experience working with survivors of domestic violence and survivors of trauma. Most of her work and most recent experience has been with severely and chronically mentally ill children. She has worked with incarcerated youth for a little over two years and continues to work with adolescents in a high school setting. Of all her roles, Monica's favorite title is Tia/Auntie. She loves spending time with her pit bull Bella and loves art, museums, plays, dance, and poetry. Her absolute favorite comfort food is her Nana's mole.